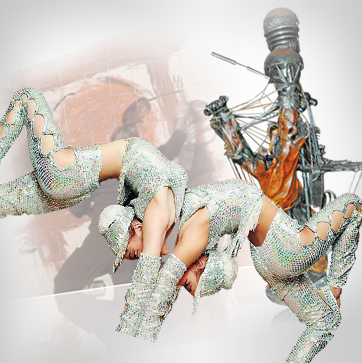 Innovative customer events "Café del Vision" and "Myth of Jade"
Concept, planning and realisation of an event series for three years | location scouting | supporting program | catering| accompanying material | follow-up
Cli­ent: Bayer Mate­ri­al­Sci­ence AG (today Cove­stro AG), Lever­ku­sen
An evening event with chill-out atmo­s­phere at the Euro­pean Coa­tings Show in Nurem­berg was new and suc­cess­ful. We mer­ged the cur­rent con­cert slo­gan "Vision Works" with the scene loca­tion "Café del Mar" to "Café del Vision" and enthu­sed top mana­gers arri­ving from all over the world. "Myth of Jade" and "Cocoon­Club" fol­lo­wed.
Congresses
Overall responsibility and all-inclusive organisation including professional light, video and sound technology | simultaneous interpretation | accompanying material| location organisation | flying buffets | poster session
Cli­ent: Bayer Mate­ri­al­Sci­ence AG (today Cove­stro AG), Leverkusen
Green­house con­cept, Sci­ence-Net and Triple-I are only some of the tools of the inno­va­tion net­work at BMS. These inno­va­tions and the expert know­ledge are spread world-wide and across the group, and need not necessa­rily be known to all rele­vant per­sons. The inno­va­tion exchange "Visi­onWorks-Inno­va­ti­onFo­rum" for 800 inter­na­tio­nal mana­gers and sci­en­tists ensu­res the exten­sive exchange of infor­ma­tion in a pro­fes­sio­nal frame here.
Product launch "Gecko" on the European market
Communication concept | creation of a popular figure | ad, supplement and brochure concept | media planning as well as placement of ads in specialised media | give-aways
Cli­ent: Thys­sen Hün­ne­beck GmbH, Düs­sel­dorf
Mar­ket launch of a revo­lu­tio­nary pro­duct idea: The first and only scaf­fol­ding without dis­tur­bing inside posts and without fixed floors. We have bro­ken with the tra­di­tio­nal idea "of how a scaf­fol­ding has to work and look like".
PoS support during events in exclusive surroundings
(Leading Hotels of the World)
Brainstorming | typesetting | layout | graphic design | production
Cli­ent: Venice Simplon–Orient Express Ltd. Hotels, Trains & Crui­ses, Köln
The legend lives. Since its mai­den voyage in 1883, the King of Trains has enchan­ted nume­rous famous per­so­na­li­ties. Its rebirth goes back to the year1982, and since 2003 we accom­pany the dream holi­day-makers in the style of past days to the nicest towns in Europe and we awake hid­den dreams of people who love the par­ti­cu­lar and non-usual things in life.